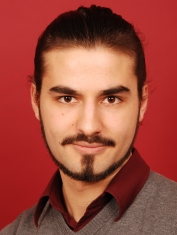 Postdoctoral Researcher
Cartesium 3.14
Enrique-Schmidt-Str. 5
28359 Bremen, Germany
+49 421 218 64280
ziemer@uni-bremen.de
Tim Ziemer is a musicologist focusing on the technical implementation of psychoacoustics in sonification, spatial audio, music information retrieval and microphone array technology.
Projects:
Creative Unit IOI: Sonification and Spatial Cognition for Surgical Learning and Assistance
Publications (selection):
Tim Ziemer's complete List of Publications [PDF].
Press Mentions (selection):
Benedikt Bucher:

Studenten entwickeln App und übertrumpfen sogar Apple: Darum ist diese Smartphone-App deutlich besser, 

CHIP Online, Sep. 2021

Market Research Telecast: Tiltification: Acoustic spirit level for the smartphone, 

Market Research Telecast, Sep. 2021

Andrea Wilkens: Tiltification: Akustische Wasserwaage fürs Smartphone,

Heise Online, Sep. 2021

Nadja Podbregar:

Handy-App als akustische Wasserwaage, 

scinexx – Das Wissensmagazin, Sep. 2021

Chrissy Sexton: New device identifies mosquitoes using only sound, earth.com News 12/2020
Acoustical Society of America: Imitation mosquito ears help identify mosquito species and sex, Phys.org 12/2020

Barkhat News: ساخت ابزاری برای شناسایی پشه های ناقل بیمار, Dec. 2020

Arne Grävemeyer: Operieren nach Gehör, c't 21/20, Heise Medien, S. 58

Rico-Thore Kauert: Mit Computerspielen besser operieren, StartupMag 2020
Lieselotte Scheewe: Leben retten durch Sonification und Gamification, Bremen Zwei, September 17, 2020
Kai Uwe Bohn: Playing Video Games to Save Lives? / Mit "Daddeln" Leben retten?", up2date 2020
Dorothea Olenska: How a Building's Sound Can Make or Break Its Value, STRXUR 2020
Eddie Gandelman: Hearing Is The New Seeing, prioritydesigns 2019
Complete list of Tim Ziemer in the media [PDF].
Feel free to contact me whenever you have questions concerning Acoustics, Audio, Auditory Perception, Music, Noise, Psychophysics or Sound.