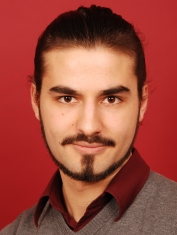 Postdoctoral Researcher
Cartesium 3.14
Enrique-Schmidt-Str. 5
28359 Bremen, Germany
+49 421 218 64280
ziemer@uni-bremen.de
My research interests focus on applied psychoacoustics, particularly the physics and perception of spatial sound. I am developing a psychoacoustically motivated sonification tool to guide surgeons safely via auditory display. Further topics of interest are psychoacoustic wave field synthesis and music recommendation.
Projects:
Creative Unit IOI: Sonification and Spatial Cognition for Surgical Learning and Assistance
Publications:
Tim Ziemer's List of Publications [PDF].
Press:
Arne Grävemeyer: "Operieren nach Gehör", c't 21/20, Heise Medien, S. 58
Lieselotte Scheewe: "Leben retten durch Sonification und Gamification", Bremen Zwei, September 17, 2020 
ck/pm: "So helfen Töne beim Operieren", Zahnärztliche Mitteilungen 2020
"Neue psychoakustische Trainingsmethode für Chirurgen? Bremer Wissenschaftler entwickeln Spiele, die räumliche Orientierung verbessern sollen", Quintessenz-News.de, 2020
Kai Uwe Bohn: Spiele spielen – und dadurch später Leben retten?, Pressemitteilung Uni Bremen 2020
Dorothea Olenska: How a Building's Sound Can Make or Break Its Value, STRXUR 2020
Michael Kellermann: Soundkarte: Test & Empfehlungen, TECHNIKHIWI 2020
Eddie Gandelman: Hearing Is The New Seeing, prioritydesigns 2019
Meike Mossig: Internationaler Austausch: Thailändische Studierende und Wissenschaftler forschen zurzeit im Bremen Spatial Cogniton Center, Pressemitteilung Uni Bremen 2017
Jochen Wieloch: Heimkino macht erst mit Subwoofern richtig Spaß, DPA, z.B. welt.de, Süddeutsche Zeitung 2016
Jochen Wieloch: So digitalisieren Sie Ihre alten Videokassetten, DPA, z.B. welt.de, Schwäbische Zeitung, Berlin.de, bild.de 2016
Feel free to contact me whenever you have questions concerning Acoustics, Audio, Auditory Perception, Music, Noise, Psychophysics or Sound.